Diamond Pier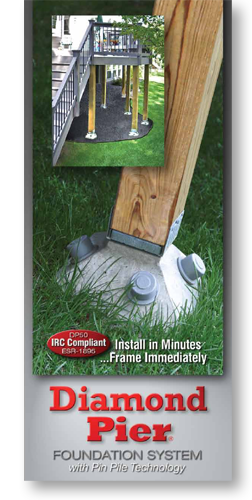 Diamond Pier® is a pre-engineered foundation system using pin pile technology. It is designed to replace a conventional concrete pier footing typically used in the construction of decks, gazebos, screen porches and similar type projects. Diamond Pier is a pile driven foundation system with large steel pins that are pile driven through a high-strength precast concrete head.
Diamond Pier provides a heavy-duty foundation system that allows builders to start framing immediately. Just set the DiamondPier, drive the pins, connect the bracket and start building. This saves time and scheduling headaches. And, there's no need to dig deep holes, pour concrete, or repair the landscape. Diamond Pier's low environmental impact makes it an outstanding "Green" solution to your next building project and it's an ideal choice for building in wetland and conservation areas.
The load capacities of Diamond Pier are equal to or greater than a standard concrete pier footing size described in Pin Foundations Capacity Comparison Chart, so there is no need to change designs or post layouts – just follow the Load Chart and Installation Instructions, and substitute Diamond Piers where conventional footings are planned.
Their light weight and ease of installation make Diamond Pier the perfect choice for any residential project, and they are covered by a Warranty that lasts the life of your structure.
Sizes available are DP50, DP75 and DP100.